Find out what recent climate activity Bury Council has been working on (Content provided Bury Council).
Bury Council are committed to carbon neutrality and ensuring our neighbourhoods and local communities are greener, cleaner, and healthier places to live. Climate change, and its many associated issues, are huge topics and impact everything from what fruit we buy – to how we use our green spaces – to how we power our kettles. As a Council we are limited in certain ways as to what we can achieve, but there is still a lot we can do, and we can influence a lot of positive change across the borough. To achieve our goals in the shortest time possible we need
everyone to get involved with climate action.

The Council is in the midst of dozens of projects and through the Bury Climate Hub we want to keep you updated about these projects. There are loads of things we can do to tackle climate change and there are lots of ways you can get involved and work with us to promote a positive change through upcoming events, programmes and projects.

Along with our partnering Councils across Greater Manchester, we have committed to carbon neutrality by 2038. That may seem a long way away but there is much to do if we are to achieve that goal. The Council must act as a beacon of action and progress to encourage more people to get involved and through these regular updates, we hope to do just that.

Below are several themes that the Council are currently working on along with various projects
and actions that are ongoing:

Energy & Buildings

We recognise the necessity of decarbonising our estate and are therefore currently undergoing a process of rationalisation as we look to see which buildings can be disposed of and which need to be invested in. This review is underway and will help influence our decision making as we cut the Council's energy usage.

Some of our buildings are already undergoing energy efficiency measures as part of the Public Sector Decarbonisation Scheme (PSDS) fund and most recently work has commenced on Ramsbottom Civic Hall and Ramsbottom Library and The Met Theatre, installing solar panels and insulation.

Six Town Housing, our partner who runs the Council's social housing was recently awarded £1million to take a 'fabric first' approach and improve the energy efficiency in over 100 properties on the Chesham Estate
Street lighting is a large energy user within the borough and therefore we are replacing streetlights across Bury with energy efficient LEDs to reduce their energy usage.

Travel

We continue to work closely with Transport for Greater Manchester (TfGM) to make Bury an easier place to walk and cycle. This has involved the recent introduction of a cyclops junction at Angouleme way and several pedestrian crossings. Later this year we will launching 3 bike libraries around the borough for people who need
access to a bike. Planning and implementing the Heaton Park Low Traffic Neighbourhood is ongoing.
Consumption, Waste & Food
Bury's waste is managed jointly along with eight of the other nine Local Authorities in Greater Manchester. By combining resources, we are able to reduce our waste and send less than 1% of our waste to landfill with our waste instead being incinerated at an energy from waste plant in Runcorn. This energy is then used to supply a chemical plant nearby and reduce the energy requirements on the local grid.

Working with GMCA to develop three Renew shops across Greater Manchester in Altrincham, Eccles and Oldham.

The Bury Food Partnership Board have spent the past year working towards the bronze award from Sustainable Food Places (SFP) and were successfully awarded in June 2022.

The SFP network brings together pioneering food partnerships that are driving innovation and best practice on a several key areas including "Tackling the climate and nature emergency through sustainable food and farming and an end to food waste".

Green Economy, Skills & Education

We recently hosted our second Bury Means Green Business event which works with local businesses to promote sustainability and climate awareness. We got to hear about the upcoming Radcliffe regeneration, the newly formed Green Economy (previously part of the GM Growth Hub) and the Industrial Energy Transformation Fund from BEIS.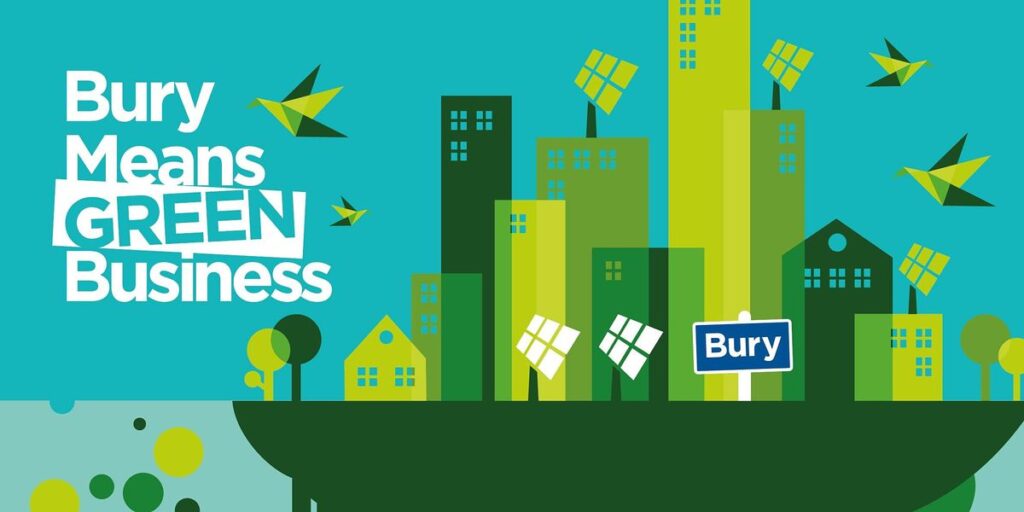 We're developing a Climate Conference for Bury's schools to help drive engagement and awareness.

We're working with Bury's Youth Council to incorporate a range of voices into our projects and taking part in their Circles of Influence event.

We're promoting local enterprise especially Bury's markets which are a source of local produce and craftsmanship.

Natural Environment

Tree planting is ongoing with 56 extra standard trees planted at Burrs Country Park and 10 more will be planted during this year.

Across the borough, 25,442 tree whips have been planted, more than over 12.5 hectares of woodland have been created and 11 new community orchards have been established.
Trees have also been planted in commemoration of the Queen's Platinum Jubilee and the Queen's Green Canopy. 12 semi-mature oak trees have recently been planted at each of Bury's 12 Green Flag parks.

Utilising a Multevo Hot Water Weed System which uses boiling water rather than traditional herbicides, such as glyphosate to tackle weeds.

Promoting the GMCA Green Spaces Fund to local organisations and groups.

Climate Resilience, Adaptation & Justice

Radcliffe and Redvales flood defence system completed.